BIOGRAPHY
Brian Rutenberg was born in South Carolina in 1965. Currently living and working in New York City, this nature-based abstract painter became a Forum Gallery artist in 2001. A graduate of the College of Charleston, South Carolina, Brian Rutenberg participated in his first group exhibition in 1985 and moved to New York shortly thereafter. He received a Master of Arts degree from New York's acclaimed School of Visual Arts. As a young and ambitious painter, he sought to capture a unique representation of the landscape through abstraction. The base of his interest stems from growing up between Pawley's Island and Charleston, where the river and lake merge with ocean. These early childhood memories continue to be a presence in his painting.
In 1997, Brian received a Fulbright Scholarship which afforded him an opportunity to spend seven months in Ireland. It is from his travels there that the artist's work became shaped by the Celtic Culture, specifically the La Tene Period, 600-400 BC. Captivated by arabesques of pure abstraction, so powerful in the artwork of this period, Brian began to use a similar merging of forms in his work. Large circular shapes of color transformed his canvases into 2 dimensional dioramas for the viewer; each swirl bringing us closer to the center of the drama on the picture plane.
Inspired by artists like Gregory Amenoff, Joan Mitchell and Hans Hofmann, Brian Rutenberg executes paintings that embrace spirituality, love of color, and a passion for paint. Although nature continues to be the major theme in his paintings, each of his works shows a brand new approach and vision.
Brian Rutenberg has had over two hundred exhibitions throughout the United States. Radius Books published a full color monograph in 2008 and in 2016 Permanent Green published Clear Seeing Place, a companion to the artist's popular YouTube series, Brian Rutenberg Studio Visits. Rutenberg's most recent monograph, A Little Long Time, is to be published in 2020 to coincide with his forthcoming solo exhibition at Forum Gallery. The work of Brian Rutenberg is included in the collections of Yale University Art Gallery, CT, The Butler Institute of American Art, OK, Arkansas Art Center, AR, Bronx Museum of Art, NY, South Carolina State Museum, and many others.
Brian Rutenberg is represented by Forum Gallery.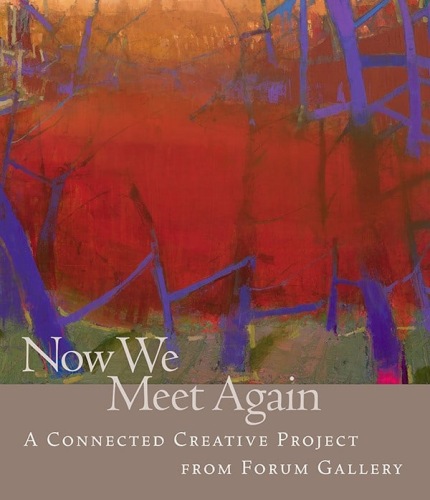 NOW WE MEET AGAIN: A Connected Creative Project from Brian Rutenberg and Forum Gallery
At this moment, when all of us are distanced from each other, we are looking for ways to connect; to bring collectors with a passion for art together with the artists that make the art they love.
We begin by offering a unique opportunity for involvement in the creative process. Here is how you can take part in the creation of a work of art that will be with you forever.
Brian Rutenberg has long created vibrant, colorful abstract paintings inspired by the coastal Carolina landscape of his youth. Using high color and a determined, secure brushstroke, Brian brings a dynamic energy to every painting he makes. If you've looked at Brian's paintings and thought of owning one over the years, you know just what I'm saying. Many have told us they have waited and waited for the right Brian Rutenberg painting to come along, of the size, format and colors that work for them. Now, you can have the opportunity to express your thoughts to Brian and participate in the creation of a Brian Rutenberg painting that checks all the boxes for you and comes alive with Brian's unique gift of expression.
Here's what we propose. Let us know of your interest in this program, and we'll speak to Brian about it. We will come back to you with a proposal, and once there is an agreement, we will connect you with Brian for a personal consultation. The consultation will take place using a Portal, an advanced device that we will send you free of charge. The Portal provides a rich and vivid, dynamic video connection; it's like being in the same room. You'll speak with Brian about the works you've admired before, the sizes and tonalities you think could work for you and why, and you can show him the place you plan to put the painting.
After your consultation, Brian will go to work. Over an agreed time frame, he will create a painting that speaks to your own involvement as well as the beauty and meaning of the subject.
Think about it. Working on a project like this can be the best kind of diversion, and we can all use one at this moment. Let's make this time a special chance to express our love of art and experience a new, interactive relationship.
To respond, click here to send us an e-mail, and give us the best phone number to reach you and an idea of what time is best. We'll reach out to you right away for all the details.
My very best,
Bob Fishko