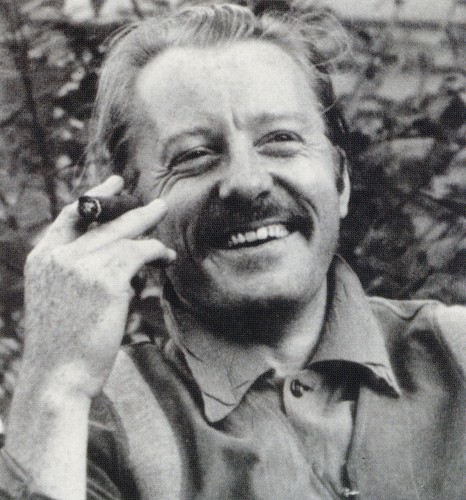 Born in Cleveland, Ohio, Biederman grew fond of the visual arts at a young age. As a teenager, he enrolled in figure drawing and watercolor courses at the Cleveland Art Institute, and apprenticed at a local advertising agency, where he learned layout design. Despite failing to obtain a high school diploma, he later attended The Art Institute of Chicago from 1926 to 1929. While at school, Biederman began to explore various artistic influences and was immediately drawn to the early twentieth century European modernists, such as Picasso, Van Gogh, Seurat, and particularly Cézanne. Cézanne heavily informed Biederman's early style, and his fascination with the artist is evidenced in both the visual and written work that he produced throughout his lifetime. Though professors celebrated his technical ability, Biederman failed to attend basic courses at the Art Institute. With no desire to complete his formal education, Biederman eventually left the school in 1929. Biederman was best known for his constructivist, cubist-inspired reliefs; he often regarded himself as an American original, the self-proclaimed "best-known unknown artist in America." Influenced by the aesthetic of Russian Constructivism and De Stijl, he dubbed his vivid geometric three-dimensional reliefs "New Art," disregarding traditional mediums such as painting, drawing, or collage. Instead, he favored synthetic materials such as plastic and aluminum, most often coated with bright oil-based paint.
Throughout the Depression, Biederman began experimenting with several styles reminiscent of the cubists and biomorphic surrealists. He often painted using discarded canvases and old flour sacks. Subsiding on little, he spent much of this time boarding with friends or sleeping on park benches, refusing to compromise his artistic talents for commercial work. During this time, he became acquainted with John Anderson, who immediately took an interest in his art. Anderson soon became a close friend and patron. In 1934, Biederman left the Midwest for New York to establish himself in the modern art scene. During this period Biederman was featured in the show "Five American Constructionists" at Paul Reinhardt Galleries and had his first major solo exhibition at the Pierre Matisse Gallery in 1936.
By 1937, Biederman's work was becoming more sculptural, and subsequent pieces, such as New York, Number 18 of 1938, in the collection of the Museum of Modern Art, New York, were rendered as shallow, painted reliefs. These wall-hung panels—often incorporating wood and plastic materials—could be seen from various angles, and natural light and cast shadows enhanced the visual effect.

Wall panels were transitional works in the artist's oeuvre, between his early experimental paintings and his mature reliefs, done since the late 1940s, in which a grid of small, individual, brightly colored pieces appear to float freely against a backboard. Although such radically abstract works were not well-received in New York at the time, precipitating the artist's move to Minnesota (where he lived the rest of his life), there has been renewed interest in Biederman's inventive works, starting in the 1960s, when Op Art was in fashion, and continuing today.
Works by Charles Biederman are included in the collections of the Art Institute of Chicago, Dallas Art Museum, High Museum of Art, Hirshhorn Museum and Sculpture Garden, Metropolitan Museum of Art, Minneapolis Institute of Arts, MoMA, New York, Tate Gallery, Walker Art Center, and the Whitney Museum of American Art.