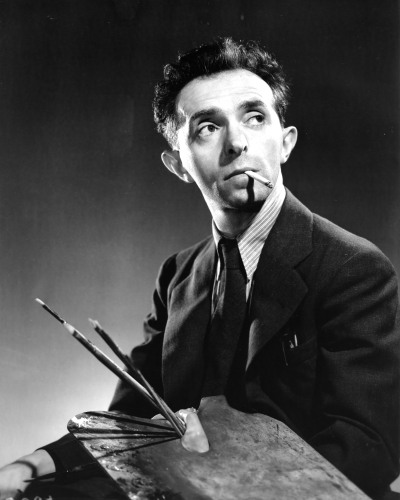 Raphael Soyer was born on Christmas Day in 1899 in Tombov, Russia. He later traveled to the United States with his family and settled in Manhattan, at the impressionable age of twelve. Although they had to leave high school to contribute to the family income, Raphael and his twin brother, Moses, enrolled in drawing lessons at Cooper Union in 1914. Four years later, Raphael enrolled in the National Academy of Design and afterwards, studied with Guy Pene du Bois at the Art Students League. Du Bois encouraged him to be himself and paint what he knew, his family and environment. Raphael Soyer took this to heart, rejecting the strict academic style of the time for a more personal style.
With the endorsement of du Bois, Soyer brought his paintings to the Daniel Gallery, and soon had his first solo exhibition there in 1929, the year of the stock market crash. Incredibly, some sales were made, and the exhibition was reviewed favorably. During this year, Soyer made the commitment to give up his day job, rent a studio on the lower East Side, and paint full-time. As the suffering economy began to impact people's lives, Raphael Soyer portrayed the unemployed as subjects in his work. As he made these genre paintings, he also painted the intimate portraits and self-portraits that he would continue for the next fifty years.
As his vision and reputation grew, Soyer showed regularly in the large annual and biennial American exhibitions of the Whitney Museum, The Carnegie Institute, the Art Institute of Chicago, the Corcoran Gallery of Art, the National Academy of Design and the Pennsylvania Academy of Fine Arts. His work is now in the public collections of these institutions, and also in many others major collections, such as Bezalel National Museum, Jerusalem, Cleveland Museum of Art, Ohio, National Collections of Fine Arts, Washington D.C., Philadelphia Museum of Fine Art, The Phillips Collection, Washington D.C., Museum of Modern Art, New York, Metropolitan Museum of Art, New York, The Jewish Museum, New York, Hirshhorn Museum and Sculpture Garden, Washington D.C., and Fogg Art Museum, Cambridge, Massachusetts.
A revered and beloved artist, Raphael Soyer continued his love of depicting the American experience throughout his long life, until his death in 1987.