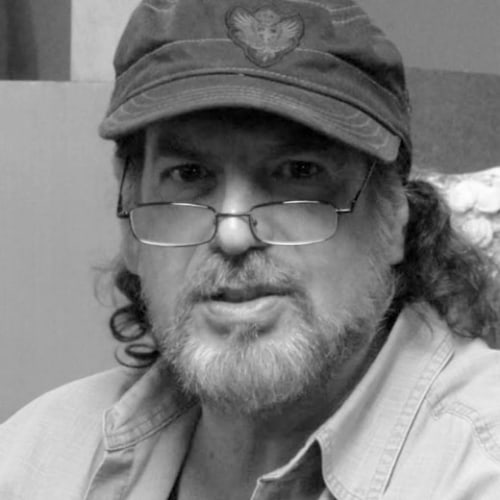 BIOGRAPHY
"Steven Assael is acclaimed as the most accomplished figurative artist of his generation…(and) has devoted himself to realistic rendering of the human figure since he was a child prodigy…Certainly Assael is conscious of not just the whole history of painting but also the deeper connection between the portrait and its subject's mortality."
- Adrian Dannatt for The Art Newspaper, November 2002
Born in New York City in 1957, Steven Assael graduated from Pratt Institute and has served for decades as faculty at the School of Visual Arts and as a senior critic at the New York Academy of Art. The Artist's prodigious technique, his use of light and shadow, sensitive line and detail are deployed in the interest of the implication of narrative; the psychological import of the scene, the relationship and the character of the sitter.
Steven Assael's work was the subject of a one-person exhibition at the Naples (FL) Museum of Art from October, 2010 to January, 2011. Assael's paintings were also included in the exhibition "New Old Masters", curated by Donald Kuspit, at the National Museum in Gdansk, Poland in 2006. A retrospective exhibition was held at the Frye Art Museum, Seattle (WA) in 1999. Single-person exhibitions of works by Steven Assael have also been featured at the Cress Gallery of Art at the University of Tennessee, Lowe Gallery (Atlanta, GA) and Ann Nathan Gallery (Chicago, IL). His work has been exhibited at The Arkansas Arts Center, The New York Academy of Art and The Arnot Art Museum (Elmira, NY), and is in the permanent collections of the Art Institute of Chicago (IL), The Hunter Museum of Art (Chattanooga, TN), The Kemper Museum of Contemporary Art & Design (Kansas City, MO), The Columbus Museum of Art (OH) and the Metropolitan Museum of Art (NY).
Steven Assael is represented by Forum Gallery, New York, NY.