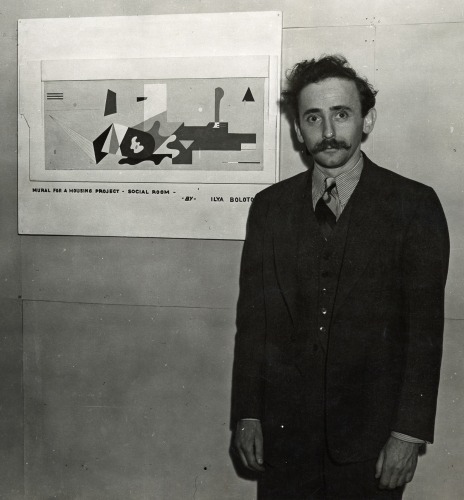 Born in St. Petersburg, Russia, Ilya Bolotowsky (1907–1981) became a leading early 20th-century painter in abstract styles in New York City. His work, a search for philosophical order through visual expression, embraced Cubism and Geometric Abstraction and was much influenced by Dutch painter Piet Mondrian.
Bolotowsky immigrated to America in 1923 and, settling in New York City, attended the National Academy of Design. He became associated with a group called The Ten, artists including Julian Weir and Childe Hassam who rebelled against the strictures of the Academy and held independent exhibitions.
In 1936, having turned to geometric abstractions, he was one of the founding members of the American Abstract Artists, a cooperative formed to promote the interests of abstract painters and to increase understanding between themselves and the public. Later on, he became an early member of the Federation of Modern Painters and Sculptors, established in 1940.
During this period, Bolotowsky came under the influence of the Dutch painter Piet Mondrian and the tenets of Neoplasticism, a movement that advocated the possibility of ideal order in the visual arts. Bolotowsky adopted his mentor's use of horizontal and vertical geometric pattern and a palette restricted to primary colors and neutrals.
His mural for the Williamsburg Housing Project, New York, was one of the first abstract murals done under the Federal Art Project. Despite Bolotowsky's clear, precise control of his images, he emphasized the role of intuition over formula in determining his compositions. In the 1960s, he began making three-dimensional forms, usually vertical and straight sided.