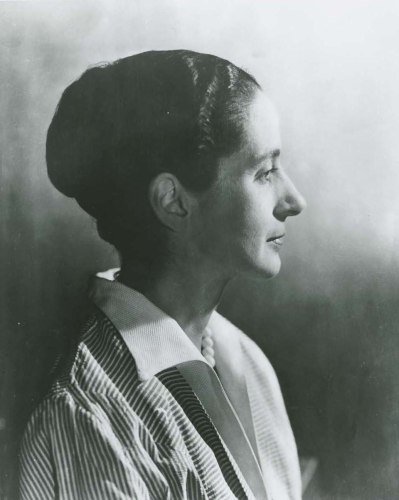 Isabel Bishop was born in Cincinnati, Ohio. In 1918 at the age of 16 she left home and moved to New York City to attend the New York School of Applied Design for Women and later enrolled in the Art Students League in 1920. There she studied with Kenneth Hayes Miller and Guy Pene du Bois and met many young artists, including Reginald Marsh and Edwin Dickinson, both of whom became close friends.
Bishop began exhibiting her work and participated in artist groups, including the Whitney Studio Club and the New Society of Artists. During the 1920s and 1930s she developed a realist style of painting, portraying the men and women on the street below her Union Square studio in their daily routines with soft tones and filtered light. For their 2009 solo exhibition for the Artist, the National Museum of Women in the Arts wrote: "It was in New York's pulsating environment that Bishop combined her admiration for the old masters with a contemporary taste for urban realism. With her discerning eye, she portrayed ordinary people in an extraordinary manner, often monumentalizing her figures within spaces that barely created context or indicated a location… She chose average models from the streets of Manhattan and often rendered them in a state of physical activity – a sharp departure from the idealized, passive nudes of previous traditions."
Influenced by early Modernists like Robert Henri and old masters such as Rubens, Bishop was associated with New York's 14th Street School, a group of realist artists that included Marsh and Miller as well as Raphael Soyer. In 1932, she began showing her work frequently at the newly opened Midtown Galleries where her work would be represented throughout her career.
During her long life as an artist, Bishop exhibited in numerous group and solo exhibitions, traveled throughout the U.S. as an exhibition juror, and received many awards for her work, such as the American Academy of Arts and Letters in 1943 and Outstanding Achievement in the Arts presented by President Jimmy Carter in 1979. She taught at the Art Students League as the only female full-time instructor from 1936 to 1937, and at the Skowhegan School of Painting and Sculpture, among others. She was the first woman to hold an executive position at the National Institute of Arts and Letters as vice-president in 1946.
Today, works by Isabel Bishop are in the many museum collections including the Art Institute of Chicago, The Museum of Modern Art in New York, the National Gallery of Art in Washington, D.C., the Whitney Museum of American Art in New York, and the Philadelphia Museum of Art. Bishop died on February 19, 1988 in Riverdale, New York.