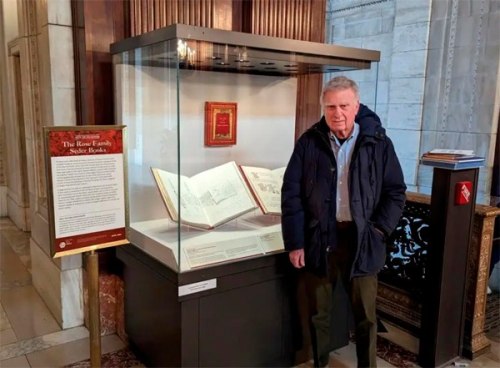 Mark Podwal, first known for his drawings on The New York Times Op-Ed page, is also the author and illustrator of numerous books. Most of these works – Podwal's own as well as those he has illustrated for others – typically focus on Jewish history, tradition, and legend. Podwal's original art and books have been collected by many institutions, including the Metropolitan Museum of Art, Victoria and Albert Museum, Vatican Pontificia Università, Israel Museum, Yad Vashem, Bibliothèque nationale de France, Munich Stadtmuseum, Carnegie Museum, and the Jewish Museums in Prague, Berlin, Vienna, Stockholm, and New York.
Though he always loved to draw, Podwal never pursued formal art training and instead became a physician. While attending New York University School of Medicine, his passion for drawing once again crept in: the tumultuous events of the 1960's compelled Podwal to create a series of political drawings that were published as his first book The Decline and Fall of the American Empire. These images were brought to the attention of an art director at The New York Times, and in 1972, his first drawing appeared on its Op-Ed page. That drawing of the Munich massacre was later exhibited at the Musée des Arts Décoratifs Palais du Louvre.
Among those who have lauded Podwal's prolific portfolio of artwork is historian David McCullough who wrote, "Podwal is like no one else that I know of, and his work will withstand the test of time." Author Cynthia Ozick has given Podwal the Hebrew name Baal Kav Emet, or "Master of the True Line." As she explains in her essay Ink & Inkling, "[Podwal] joins metaphysics to physics: essence to presence; ideas to real objects...The Master of the True Line is also master of hidden meanings, of symbol and metaphor."
Over a period of 40 years, Podwal collaborated with Nobel Laureate Elie Wiesel on numerous projects, including illustrating Wiesel's books and a Passover video for PBS. Wiesel chose Podwal to design his Congressional Gold Medal struck by the United States Mint.
Among Podwal's 13 children's books is Jerusalem Sky (Random House), which he also authored. Renowned children's author Maurice Sendak wrote, "All the earned and admiring praise – wondrous, luminous, magical – cannot catch the fierce bite, healthy spirit, and sheer joyousness of this superb book." The book inspired the Anti-Defamation League's Jerusalem Sky Project, an ecumenical program fostering tolerance by bringing together children from the Jewish, Islamic, and Christian communities.
In 2014, at the Terezin Ghetto Museum there was an exhibition of Podwal's cycle, All this has come upon us… The forty-two paintings and drawings, disturbing reminders of how Europe's extensive history of "Jew-hatred" laid the groundwork for the Holocaust, have been published as archival pigment print portfolios. The nearly fifty institutions, which have acquired the portfolios include the United States Holocaust Memorial Museum, Library of Congress, the Bodleian Library, the British Library, Institute for Advanced Study, Hebrew University, and the National Library of Israel. Czech Television produced and broadcast a documentary on Podwal's Terezin exhibition.
Podwal's series Kaddish for Dąbrowa Białostocka about the Polish shtetl where his mother was born, was exhibited at the Eldridge Street Museum, Yiddish Book Center, the Jewish Museum in Florida, the Terezin Ghetto Museum, and many venues in Poland. Moreover, Podwal has designed a 20-foot mural for Dąbrowa to commemorate the town's Jewish past.
Podwal has created numerous limited edition prints for The Metropolitan Opera including posters for Nabucco, sometimes called "Verdi's Jewish Opera," and for Mozart's seven most famous operas. Many of the original drawings for the Met Opera posters are in the collection of the National Gallery Prague.
Podwal's recent publications include his illustrations for Heinrich Heine's poems, Hebrew Melodies, A Collage of Customs, A Jewish Bestiary, and Reimagined: 45 Years of Jewish Art by Mark Podwal. Published in collaboration with the Babyn Yar Holocaust Memorial Center to commemorate the eightieth anniversary of the killings, An Atlas of Jewish Space, includes 139 of Podwal's images with a text by Holocaust scholar Robert Jan van Pelt.
Beyond his works on paper, Podwal's artistry has been employed in an array of diverse projects, including designing a series of decorative plates for the Metropolitan Museum of Art, textiles for New York's Temple Emanu-El and Prague's seven hundred year old synagogue, the Altneuschul, as well as sixteen kiln cast glass panels the United Jewish Appeal Federation Headquarters. Podwal collaborated with Academy Award winning filmmaker Allan Miller on the documentary House of Life: The Old Jewish Cemetery in Prague, narrated by Claire Bloom, broadcast on PBS in 2009 and 2010.
Podwal's honors include being named an Officer of the Order of Arts and Letters by the Ministry of Culture of France, a Doctor of Humane Letters honoris causa by Hebrew College, the Silver Medal from the Society of Illustrators, the Jewish Cultural Achievement Award from the Foundation for Jewish Culture, and the Gratias Agit Prize from The Foreign Ministry of the Czech Republic.
Mark Podwal has been represented by Forum Gallery since 1977.