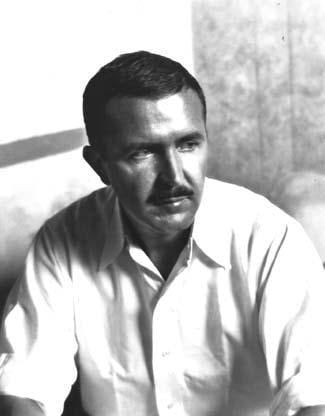 Niles Spencer was born in Pawtucket, Rhode Island, the son of Henry Lewin Spencer and Margaret Allen. The Spencer family had extensive business interests in Pawtucket including banking and manufacturing. Niles Spencer graduated from the Rhode Island School of Design in nearby Providence in 1915. He studied several summers in Ogunquit, Maine with Charles Woodbury and subsequently, with the avant- garde group surrounding Hamilton Easter Field.
In 1916, Spencer moved to New York to continue his studies. The lively intellectual milieu of Greenwich Village was in its heyday, and Spencer was exposed to many of the radical theoreticians and personalities of the time, who encouraged him to begin working in new directions. Deeply influenced by Cézanne's faceted explorations of landscape and still life, Spencer's paintings began to focus on the geometry of architectural shapes and how they related to their landscape.
Spencer's work is often associated with a group of American classicist painters called the Precisionists, a loosely knit group including Charles Sheeler, Charles Demuth, Louis Lozowick, George Ault, Elsie Driggs and Ralston Crawford. The Precisionists reduced the American industrial landscape to a spare dynamic, architectonic composition characterized by an unmodulated surface and simplified images. Searching for a singular modern American subject, they venerated the machine and industry as an exaltation of the dynamism of the future.
During the 1920's, Spencer produced a series of paintings using the architectural landscape of Provincetown, Massachusetts, as his focus. In a typical painting, the distinctive vernacular architecture of New England is silhouetted in an atmospheric light-gray wash, characteristic of an overcast day at the water's edge.
In the 1930's, he turned from the light-filled landscapes of Provincetown to studies of New York City and of industry. A mural commissioned by the US Treasury Department in 1937 for a post office in Aliquippa, Pennsylvania, resulted in many drawings and oil studies and a new vocabulary of forms for Spencer. When he returned to Provincetown, his leitmotif was the railroad, construction equipment, ice plants, and other industrial subjects.
Spencer's painting method was painstakingly slow. He revised and reworked his compositions until he arrived at something that satisfied him. The surfaces of his paintings are loosely brushed layers of subtle, tonal changes of color. The palimpsest of each painting -- the artist's process of distillation and decision-making -- is visible through the many layers and changes of shape. His paintings are unique among the Precisionists for precisely this process and for the sophisticated tonalities of color which evoke an emotional and moody atmosphere.
Spencer's career can be divided into several distinct stylistic periods: The early Ogunquit paintings (1913-1922) showing the early influence of Cezanne; The Provincetown paintings (1923-1930); The paintings of industry and New York (1931-1942); and the late geometric work (1943-1952), showing Spencer's turn toward abstraction.
During this last period, shapes became more two-dimensional and stylized, and the subject less identifiable. Still-life paintings made throughout his life reflected these different stylistic concerns.
Spencer's output was relatively small, a result of his slow methodical working methods and his early death of a heart attack in Dingman's Ferry, Pennsylvania. During his lifetime, he had only two one-person exhibitions, one at the Charles Daniel Gallery in 1925 and another, twenty-two years later, at the Downtown Gallery in 1947. He exhibited often in group exhibitions at the Whitney Studio Club, the Downtown Gallery, the Carnegie Institute, the Corcoran Gallery of Art [now Museum] in Washington, D.C.; the Pennsylvania Academy of the Fine Arts, Stedelijk Museum, Amsterdam, Holland; California Legion of Honor, San Francisco; the Museum of Modern Art, the Metropolitan Museum of Art and the Whitney Museum of American Art, New York; and the Venice Biennale [1948].
His awards included a national mural competition for a commission in Aliquippa Pennsylvania sponsored by the Department of the Treasury, Washington, D.C.; an honorable mention at the Carnegie International in 1930; and a purchase prize from the Metropolitan Museum of Art in 1942. A memorial exhibition of his work was organized and circulated by the Museum of Modern Art in 1954, and another circulating exhibition of his work was organized by the University of Kentucky in 1965. In 1990, The Whitney Museum of American Art in New York held a retrospective of his work.
Spencer married twice; his first marriage in 1917 to Betty Lockett ended in divorce in1942, and in 1947 he married Catherine Brett. He had no children by either marriage.
Although widely known and respected by artists and museum curators, he was often described as reticent and introspective. Unwilling or unable to promote his work in an increasingly commercial environment, Spencer was often missing from the large survey shows of the period. The tireless work of his dealer at the Downtown Gallery, Edith Halpert, helped to ensure that Spencer's modest but important contribution to American art was not forgotten.