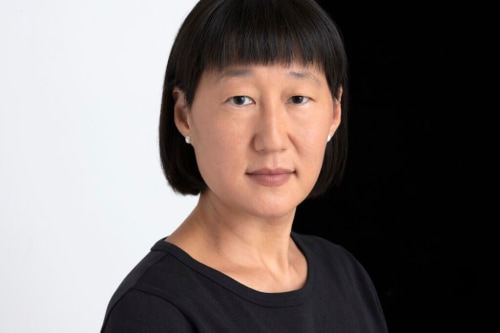 Megan Rye was born in Seoul, South Korea in 1975, traveling to the United States as an infant to her adoptive home in Minnesota. Rye received her BFA in Painting from the Rhode Island School of Design and her MFA in Painting at the University of Minnesota. She was accepted into the European Honors Program at the Rhode Island School of Design in 1998 and the Skowhegan School of Painting and Sculpture in 2005.
Megan Rye is well known for a body of work that referenced, as its primary source material, photographs taken by her brother while stationed in Iraq as a U.S. Marine. These large-scale paintings blur the boundary between Abstraction and Realism; offering an intimate perspective on the life of a soldier at war, while provoking questions of perception and reality. This work was the subject of her 2007 solo exhibition, I Will Follow You into the Dark, at the Minneapolis Institute for the Arts (MN).
Megan Rye's current series, Foundling: 100 Days, features 100 portraits of children who have been adopted by American parents from countries in Asia, Africa, Eastern Europe, and Central and South America. Rye defines a Foundling as a person who is "twice born, once at abandonment and again at reclamation." The portraits are painted on shopping bags from the nationwide retail chain Target, and are inspired by photographs used by adoption agencies to introduce children to their prospective parents. In 2019, the Spencer Museum of Art at the University of Kansas, Lawrence debuted Foundling: Portraits of Citizenship. In 2022, the Weisman Art Museum at the University of Minnesota, Minneapolis, exhibited Foundling: 100 Days in a solo presentation for the Artist that attracted much attention from the press.
Megan Rye has been the recipient of fellowships from the Bush Foundation (2010), the McKnight Foundation (2008), the Jerome Foundation (2005) and the Minnesota State Arts Board (2022, 2021, 2019, 2007 and 2004). Her work can be found in collections including the JoAnn and Gary Fink Family Foundation, Ryan Companies US Inc., the Weisman Art Museum at the University of Minnesota, Minneapolis, and in private collections across the country.
Forum Gallery has represented Megan Rye since 2005.