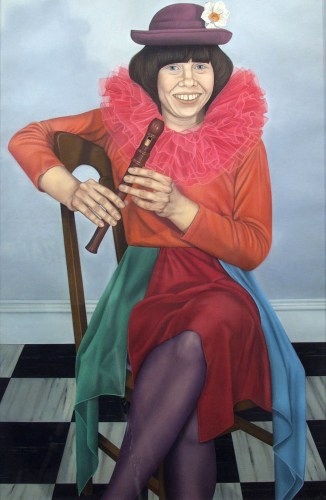 Born in Queens, New York, in 1939, Jane Lund attended the Pratt Institute, Queens College and the New York School of Social Research. The winner of several awards throughout the 1980s, Lund has had six one-person exhibitions. Her work has also been included in a wide range of group exhibitions, dating from her 1973 contribution to the New Talent: New England show at the DeCordova Museum in Lincoln, Massachusetts.
These group exhibitions include the 1980 exhibition Three Woman Show: Contract Point, held at the Springfield Museum of Art [Massachusetts], the inaugural exhibition at the Fitchburg Art Museum [Massachusetts] titled Monocular Vision: New England Realist Artists in 1989, the Exactitude exhibition at Forum Gallery in 1996 and The Figurative Impulse show, held Miami Dade Community College in 1998.
Jane Lund's richly colored and meticulously detailed pastels, usually consisting of intimate portraits and still lifes, reveal the artist's fascination with form and light. Meditative in tone, Lund provides a contrast between background and object [or sitter], that enables her works to have an immediate and awe-inspiring realism. Lund's pastels are imbued with a dreamlike, hallucinatory clarity not dissimilar to the early self-portraits of William Beckman, to the more phenomenological endeavors of Lund's friend and fellow Massachusetts artist Gregory Gillespie, and even the allegorical themes of the late Ivan Albright.
Lund's portraits differ from directly observed still lifes in that they are derived from photographs and studies. The subjects of these portraits are seen frontally. Their silhouettes fill the space and stare outward. While their totemic countenances are disconcerting, they are not confrontational. These portraits are homages to Lund's relatives and close friends whose lives are entwined with hers. The artist connects with them and imbues their physical features with a remarkable sense of personae and history.
Jane Lund presently resides in Ashfield, Massachusetts.